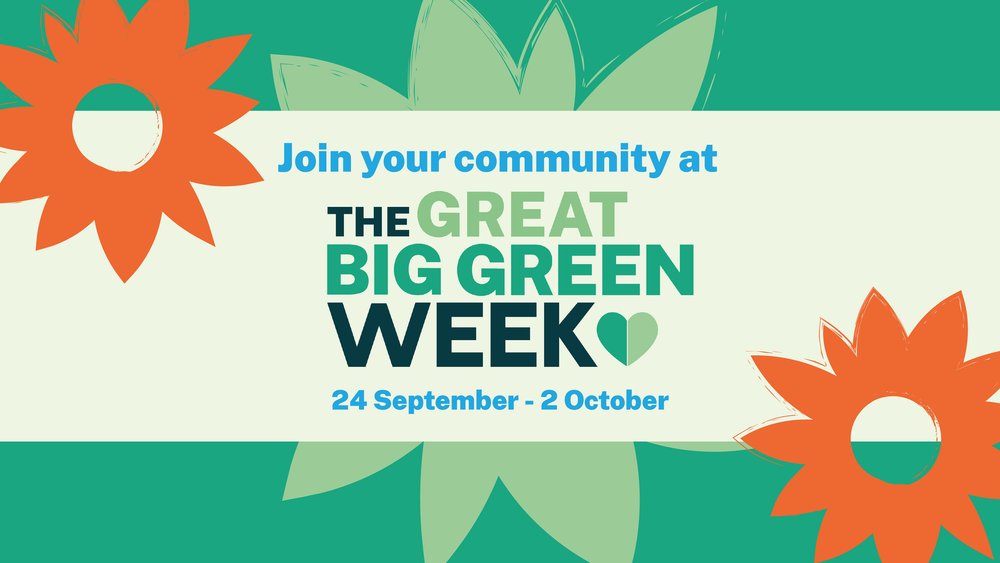 Greenhill's very own Great Big Green Week
24th September to 2nd October 2022
The Great Big Green Week is a national initiative, led by the Climate Coalition, to celebrate community action to tackle climate change and protect nature.
Lots of wonderful activity is already happening across Greenhill and neighbouring areas and the Greener Greenhill network wants to celebrate, extend and promote this. Some activities we are organising ourselves, others are being organised by community partners.
The programme is developing and more information will be added here as it becomes available – but you can also email greenergreenhill@gmail.com for information about any event (or to suggest additional ones!)
Everyone is welcome to all events (even people who don't live in or near Greenhill) and all events are free, unless specifically mentioned. Donations are always welcome though.
Saturday 24th September
Splash on the Grass: 10am -2pm
Lots of stalls and activities in front of Greenhill Library
Bikes – free MOTs from 10 to 12, have a go on an ebike from12 to 2, meet CycleSheffield and hear what they do
Green open spaces – see and hear about the wildflower planting in Greenhill, the wetland scrape, tree planting, butterfly bushes and join our exciting 'groundforce' plans. And what about improving the planting on our roundabout?
Getting kids involved – meet Sheffield Green Parents, hear what local Scouts and Guides have been doing, read and listen to some green-themed stories.
Saving energy and money – want advice on retrofitting your home and improving water use? Come along and chat!
Refuse, re-use, repair and recycle – how we can recycle more and pass things on to others locally. Anyone fancy setting up a local tool bank, or a repair café? Bring ideas and take others away.
Other stalls already confirmed are the Beauchief Environment Group and Greenhill Community Apple Pickers. More to follow!
And if you'd just appreciate a chance to talk to someone in a quiet space about your own climate concerns, we'll have people ready to listen.
Come along, meet others and get involved in any way that works for you.
Also on Saturday 24th
Lowedges Community Allotment 11am – 2pm will be open to visitors
Lowedges Fun Palace 10am – 2pm will have a green theme
Greenhill Methodist Church Litter pick 10:30-12:30.  Meet at the church 10:30, bring gloves but other equipment provided.
Sunday 25th September
6-8pm – Clothes swap at St Peter's Church (£5 entry, take home as many clothes as you like) More details at https://fb.me/e/3yLtx0UHj
Monday 26th September
10-12 walk through the woods with the Beauchief Environment Group to see the fantastic work they do. Starts at Beauchief Abbey
7.15 – 8:30pm – Talk: 'Insulating your home', advice from Paul Testa of HEM Architects. Greenhill Methodist Church. Doors open 7pm. For more information see Eventbrite (local residents can just turn up) https://www.eventbrite.co.uk/e/411346367057
Tuesday 27th September
• 7:15 -8:30pm Talk: 'Climate science and engineering solutions', for non-scientists. Speaker: John Grant of Sheffield Hallam University. Greenhill Community Library Doors open 7pm. For more information see Eventbrite (local residents can just turn up) https://www.eventbrite.co.uk/e/415554333197
Wednesday 28th September
10am – 2pm Join us for the launch of the Greater Greenhill Circular Walk! Starting points at Beauchief Abbey and Graves Park (shorter and longer versions of the walk will run)
7:15-8:30pm Talk: 'Sustainable Food'. Speaker: Professor Peter Jackson of Sheffield University. Greenhill Methodist Church For more information see Eventbrite (local residents can just turn up) https://www.eventbrite.co.uk/e/415570782397
Thursday 29th September
10:15 – 11am: Storytime at Greenhill Community Library, with a green theme
7 – 8:30pm Conversations with your local councillors at Greenhill Methodist Church. An opportunity to ask what actions the council are planning to tackle climate change and protect nature, and an opportunity to give your own views.
Friday 30th September
7:30 – 9pm: Film Night at Greenhill Community Library. '2040'. This positive and hopeful documentary film shows how, despite the challenges of climate change and biodiversity loss, the solutions to the vast majority of these challenges already exists. The film maker has a child who will turn 21 in 2040 and he wanted to explore what her life might be like as she moves into adulthood. A great film to watch as a parent – and also with your age 10+ children. Watch the trailer here. Doors open 7pm. Free showing but advance booking strongly recommended on the library's bookwhen page:
https://bookwhen.com/greenhill/e/ev-s6ua-20220930193000
Saturday 1st October
Sunday 2nd October
10am, 12 noon or 2:30pm – 90 minute tree identification walk in Ecclesall Woods led by local naturalist and nature-friendly grower Fran Halsall. Part of the Sheffield Woodland Connections celebrations – book on Eventbrite (£5) using this link.