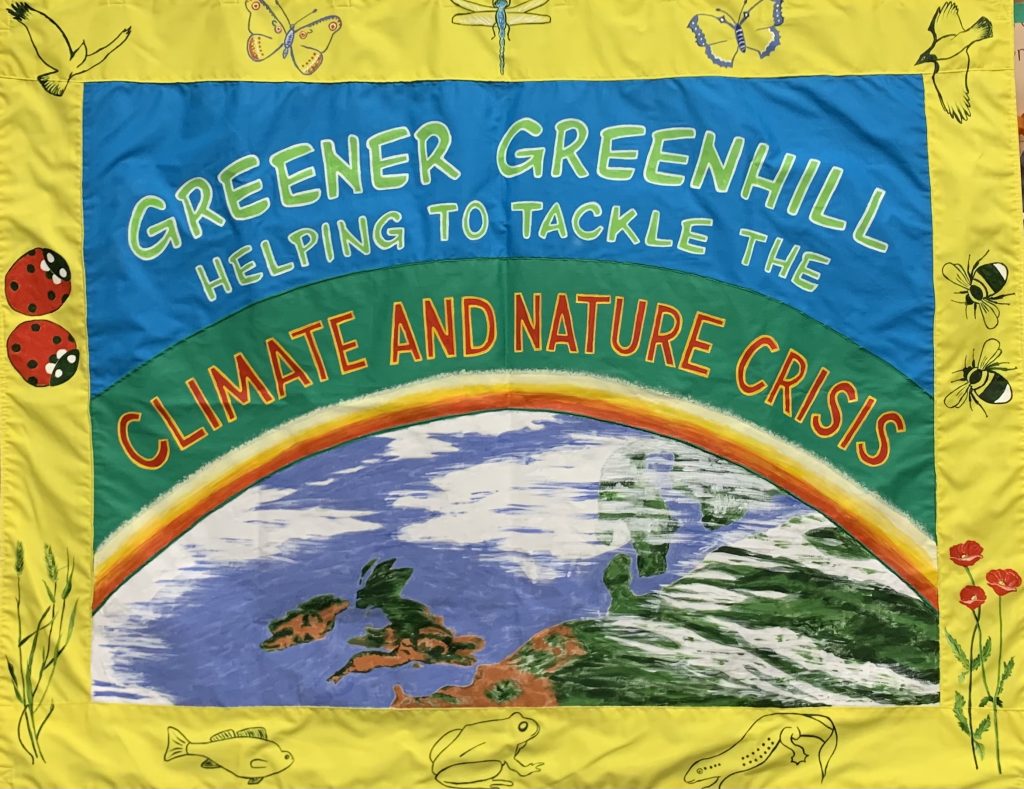 What is Greener Greenhill all about?
Our aims:
To raise public awareness locally about the urgency of the global climate and nature emergency.
To initiate and publicise local projects and actions that help to counter these emergencies.
To create a local network of people and organisations that would like to participate in, or be kept informed of, these initiatives.
To initiate and publicise local projects and actions that protect, complement and enhance Greenhill's environment to ensure that it is a healthy place to live.
Who are we and how do we work?
We are a network of local people, centred in Greenhill but including Beauchief, Chancet Wood, Lowedges, Batemoor, Jordanthorpe and out towards Bradway.
Our work is shaped by a Steering Group of currently seven residents, elected at our inaugural general meeting in March 2022. This meeting also adopted a Constitution. Anyone on our mailing list is automatically a member.
We currently have three Working Groups to develop ideas and organise or support events and projects on
Nature & Green Spaces
Reduce/Re-use/Recycle
Energy
We are open to forming other working groups depending on the interests and concerns of local people.
We want to work in partnership with schools, churches, the Scout and Guide movements, community organisations like the Terminus Initiative and the Beauchief Environment Group and local businesses as well as Greenhill Community Library which has adopted us as a partner organisation. (Where we haven't already established a direct link – please get in touch!)

What part can you play?
Join in with any Greener Greenhill activity or project that interests you, make new links and join a community of other people keen to find out more about ways to tackle the climate and nature emergency locally.
Use our network to ask for help with a project you want to get started.
Be part of one of our working groups: there is no specific commitment – you may just be interested in one particular event or project. You can contribute at your own pace.
Join our mailing list to stay up to date with our plans and projects. You can also follow us on Facebook @GreenerGreenhill
The library has purchased a number of books (for both adults and children) to help us all combat climate change, and reduce waste and pollution. These were bought with crowd-funded money raised following the death of Patrick Coghlan. They are now available for loan as part of the library's "yellow sticker" stock.
A group of Greenhill quilters have been busy creating these banners as part of the Stitches for Survival project. They have been be sent to Glasgow to be displayed as part of a 1.5 mile (yes, 1.5 miles!) long 'scarf' of messages for global leaders as they gather for COP26 climate summit. Prior to that they were on display in the library.
Click on the images to see them full size.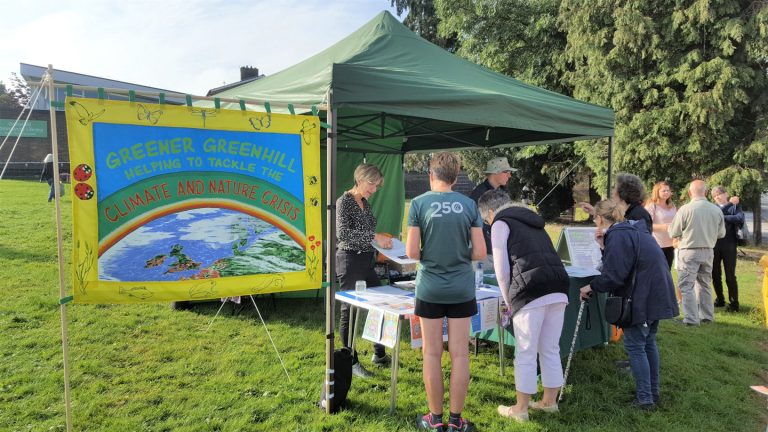 Starting to get the message out into the community at our stall on the library lawn on 18 Sept. 2021
Bike MOT Session 23 October
Lots of very happy customers from our 'Bike MOT' session at the library. Huge thanks to our team of volunteer mechanics Richard, Aline, Joe and particularly Peter Atkin from Giant Store Sheffield who also brought lots of useful kit along.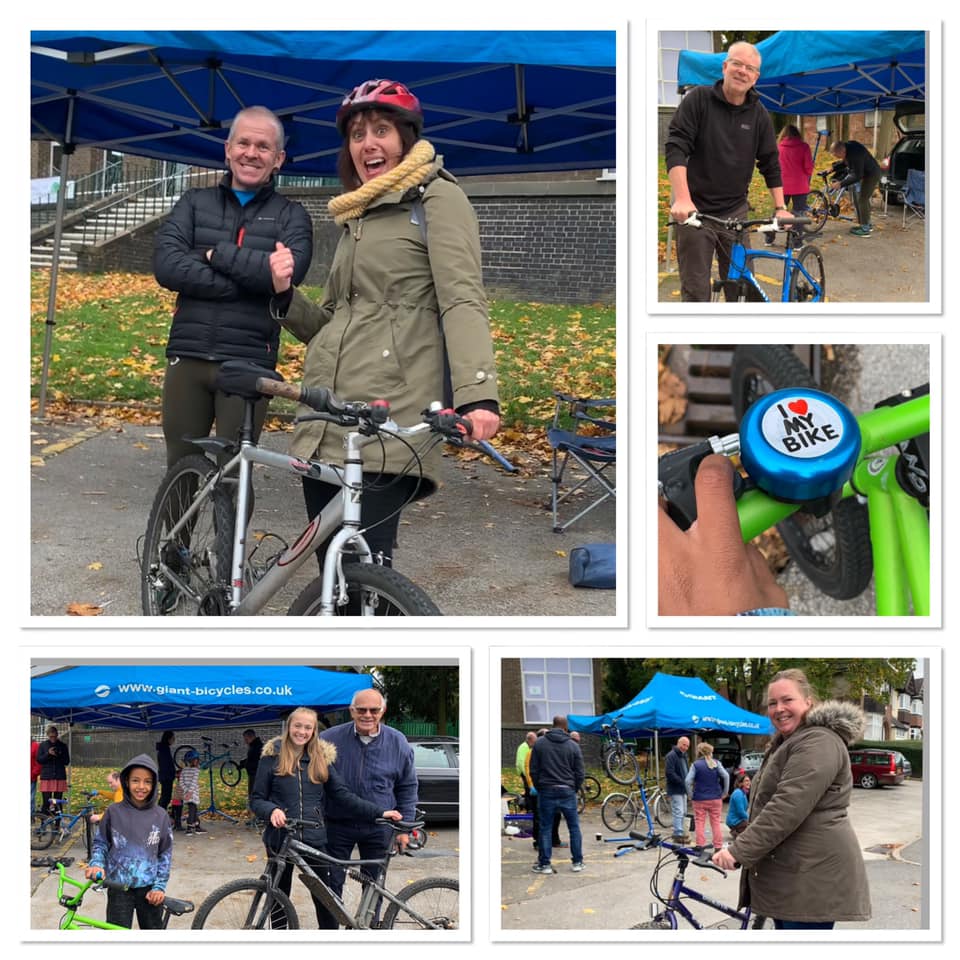 CLIMATE AND NATURE CRISIS CONTACTS
ENERGY
Energy Saving Trust Home – Energy Saving Trust
South Yorkshire Energy Centre SYEC – Heeley City Farm (heeleyfarm.org.uk).
Sheffield Renewables run green energy projects in the city – Sheffield Renewables – Community Action for our Energy Future
LOCAL FOOD SUPPLIERS
Border View Farm Shop, Bradway Farm Shop | BorderView Farm (borderview-farm.co.uk)
Pearson Market Gardener, Dronfield Woodhouse Contact Us – A Pearson&Sons – Fruit Growers – Market Gardeners – Dronfield – Derbyshire (pearsonsnurseries.co.uk)
Regather Welcome to Regather Co-Operative | Regather
Sheffield Organic Growers Welcome to Sheffield Organic Growers. We are four independent organic growers, on the outskirts of Sheffield. | Sheffield Organic Growers
Whirlow Farm Shop Farm Shop & Butchery – Whirlow Hall Farm
NATURE& BIODIVERSITY
Beauchief Environment Group Beauchief Environment Group (beauchief-environmentgroup.co.uk)
Friends of Graves Park Friends of Graves Park – Registered Charity Number: 1080407 and (20+) Friends of Graves Park | Facebook
Sheffield & Rotherham Wildlife Trust Sheffield & Rotherham Wildlife Trust | wildsheffield.com
TRAVEL
Better Buses for South Yorkshire (20+) Better Buses for South Yorkshire | Facebook
Better Buses Have your say and improve bus services across Sheffield – Louise Haigh MP
Campaign for Better Transport Campaigns | Campaign For Better Transport Cycle Sheffield Cycle Sheffield – Streets 4 People – For a cycle-friendly and people-friendly city
Cycling UK Current Campaigns | Cycling UK
Pedalready News (pedalready.uk) See Location Timetables for details of regular courses in Greenhill Park, Lowedges
Flight Free UK FlightFree UK | Flight Free UK
Living Streets (Walking) Living Streets | Home Page | Living Streets
Sustrans (Walking & Cycling) Home – Sustrans.org.uk
Tickety-Split Tickety Split (Official Site) – Cheap Train Tickets & Split Ticketing
Train Travel in Europe TRAIN TRAVEL IN EUROPE | A beginner's guide (seat61.com)
RECYCLING/REUSE
Blackstock Rd Household Recycling Centre, Blackstock Rd, Gleadless. For paper, glass, textiles, plastics, furniture, garden waste, scrap metal, batteries, wood, electrical equipment, household chemicals and pesticides, plasterboard, books etc.
Bare Alternative, The Bare Alternative | Zero Waste Shop | Sheffield, England, 332 Abbeydale Rd. Zero waste and refill shop. Self-service. Bring your own containers.
 GENERAL CAMPAIGNS
Eco Church A Rocha UK – Caring for God's Earth
Schools' Climate Education South Yorkshire Home – Schools' Climate Education South Yorkshire (scesy.org.uk)
Ethical Consumer magazine Ethical Consumer: the alternative consumer organisation
Green New Deal South Yorkshire (20+) Green New Deal UK – South Yorkshire | Facebook
Greenpeace  UK
Sheffield Climate Alliance Sheffield Climate Alliance
Sheffield Friends of the Earth Sheffield Friends of the Earth (sheffieldfoe.co.uk)
TIPS TO REDUCE YOUR CARBON FOOTPRINT
10 ways to cut your carbon footprint | 2021 Update | Soil Association
POLITICAL REPRESENTATIVES
Louise Haigh, MP for Heeley (includes Beauchief Greenhill, Lowedges, Batemoor, Jordanthorpe) Website: Louise Haigh MP
Councillors for Beauchief, Greenhill, Lowedges, Batemoor, Jordanthorpe
Sophie Thornton, sophie.thornton@councillor.sheffield.gov.uk
Richard Shaw, richard.shaw@councillor.sheffield.gov.uk
Simon Clement Jones simon.cj@councillor.sheffield.gov.uk