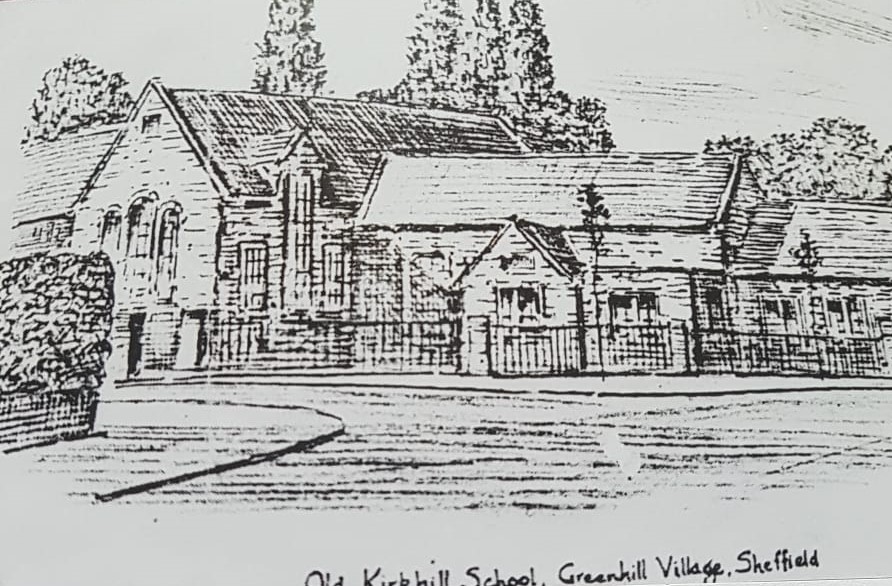 Greenhill Village History Society
About Us
We are a group of historians and volunteers interested in the Greenhill area. 
Who we are
We are a group of people who have an interest in local and family history. We enjoy exploring aspects of the heritage of Greenhill and the surrounding area. The group meets on the second Tuesday of each month at 2pm. Most meetings are held in Greenhill library.
What we do
We undertake research for both group and personal interest projects
We record finds
We work together to make our findings known by publishing books based on members' research, giving talks to other local groups, and mounting a stand at events of local and family history interest in the Sheffield areaWe join with local and family history groups for events and projects
We visit archives
Historical Database
We are in the process of creating a historical database which will be located in Greenhill library as a point of reference
Research
We are looking into several topics and welcome guest speakers who have specific knowledge of the area
Sharing memories
We are compiling a 'Memory Book' and would love to hear from you if you have old maps, photos and stories to tell of Greenhill village
Books
Greenhill library has a collection of
 local history books
 available for loan
Networking
Who do you know that may be interested in joining us?
Meetings
2pm on the 2nd Tuesday of each month at Greenhill Library
Contact Us
Greenhill Village History Society were treated to a very interesting talk on Tuesday, 9th May 2023 at the Dronfield Hall Barn. Within the walls are
Read More »
A brief look at Greenhill Village life during the two World Wars  WW1 – looking around the heart of the village now seeing the original stone built
Read More »
Sheffield Amateur Radio Society 100 Years Celebration Saturday, 16th July 16th 2022 12noon – 4pm Sheffield Transport Sports Club Greenhill Main Road, Lowedges Sheffield S8
Read More »

Railway Talk Now and Then-part 2
Greenhill Community Library Tuesday 14th November 19.30
In November, Greenhill Village History Society is hosting a talk on the research of a late Greenhill resident. Many locals will remember Ted Hancock as a railway enthusiast, who loved to share his findings with fellow enthusiasts and any interested parties. He loved steam railways, and worked tirelessly, in his retirement, to produce books of his research. The first book " The Hope Valley Line – Dore to Chinley Volume One" was published in 2019. It was the first ever book dedicated to the Hope Valley Line exclusively, and included much of his original research, not previously published. It included the canals and projected lines that were never built, the building of the line and the contribution of the navvies. Then the period from the opening of the line to the end of the Grouping period in 1947.
He was working on the second volume when he sadly passed away in early 2022. Ted shared some of his research, at a presentation called Now and Then in 2021. He loved audience participation. His talk over-ran and he only covered the section of line from Sheffield Midland Station to Heeley station.
The second part, is now going to be shared with us, on Tuesday 14th November at Greenhill Community Library. The talk includes many of Ted's slides but also additional new slides and information by his friend, co-researcher and Technical assistant Brian Stayt. This also takes us up to more recent times, and briefly touches on the current line works at Dore and Totley station. Darian Charlesworth, from GVHS, will provide the commentary and Ted's daughter, Steph,
will introduce her dad's project. This section covers Heeley station to Dore and Totley Station.
The second volume of the book, will hopefully be published in December 2023 ( maybe a good Christmas present for other steam enthusiasts ??) This will cover the infrastructure of the line as far as Gowhole, and include the widening of the lines from Sheffield to Dore, and Chinley North Junction to New Mills South junction. Also included are the railways built for the Derwent, Howden and later, Ladybower reservoirs, and the branch line to the Hope Valley cement works of G and T Earle, which opened in 1929.
Tickets to the second part of the "Now and Then" talk will be available from mid-October, at the reception desk at Greenhill Village Library £5 per ticket. (not available on line) The first edition of the book, is still available for sale at the library (also a good Christmas present for anyone that doesn't own a copy)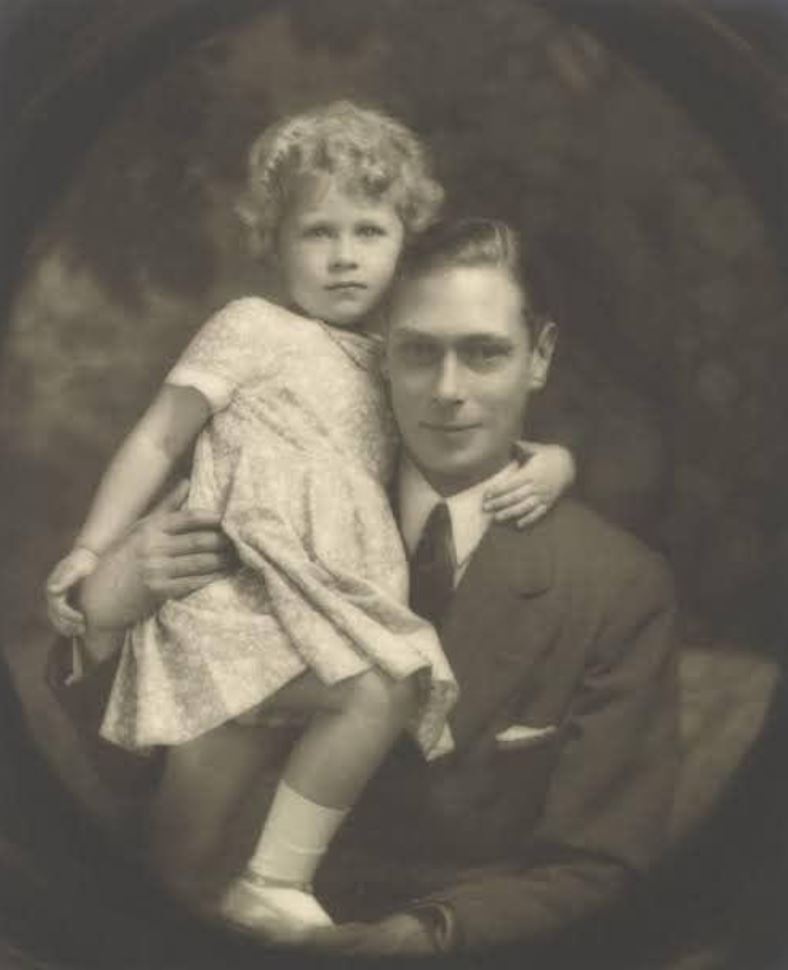 God Bless Queen Elizabeth II.
Thank you for your hard work.
Rest in Eternal Peace.
Your father would have been so proud.
Memories of her Majesty's Coronation June 2nd 1953
by Susan Chalmers
I remember these "bits" of Queen Elizabeth ll on her Coronation Day June 2nd 1953, and her visit to Sheffield 
I walked up to Norton with my sister to watch the events on a tiny little screen set up on a stage. (Not sure exactly where). I suspect our parents had to get tickets for us. .(They stayed at home and listened to the radio and it was only years later they saw recordings on television)
I do remember we had to take a packed lunch with us. It was a long day but certain parts remain etched on the memory of the golden coach carrying the Queen, the rather mysterious anointing and of course the actual crowning and the great cry of "God save the Queen" that followed it.
Everyone attending Abbey Lane received a souvenir. The boys received a small penknife (no health and safety then!) and the girls received a pair of scissors which had a tiny crown and the date marked on them. Mine were well used but I still have them.
Another piece of Coronation merchandise that I still have is a collapsible drinking cup. Many people will remember them.
The following year (1954) the Queen and Duke of Edinburgh visited Sheffield. I was fortunate enough to go by coach from Abbey Lane Junior school to Hillsborough Football Stadium (much to the dismay of my dad who was a Blades supporter!!). We joined with children from all over the city to greet the couple.
I remember we were all told to take a clean white handkerchief to wave as they drove round the stadium standing in the back of an open topped Land Rover.
It's only now, looking back, that I realise just how young Queen Elizabeth ll looked for the burden she had taken on.
The School
The National School was originally built in 1843 and was known as Kirkhill School. It joined the Norton School Board in 1872 and was enlarged in 1890. Education was not compulsory then and a weekly fee was paid. School was not a priority then and poor attendance was common.
In WW2 it was used as an ARP base and First Aid post.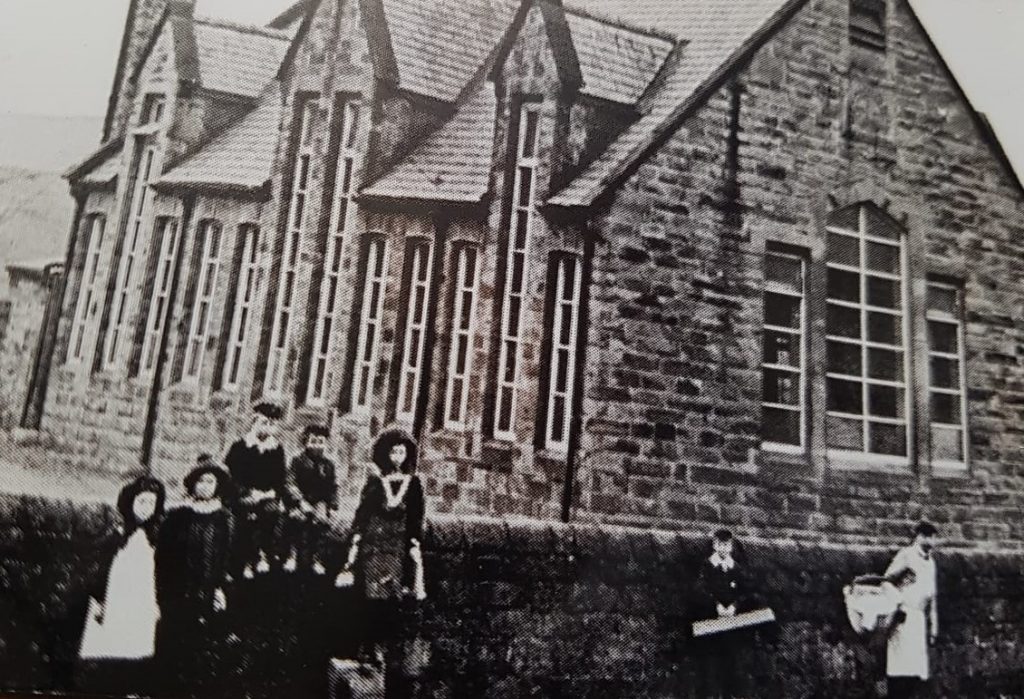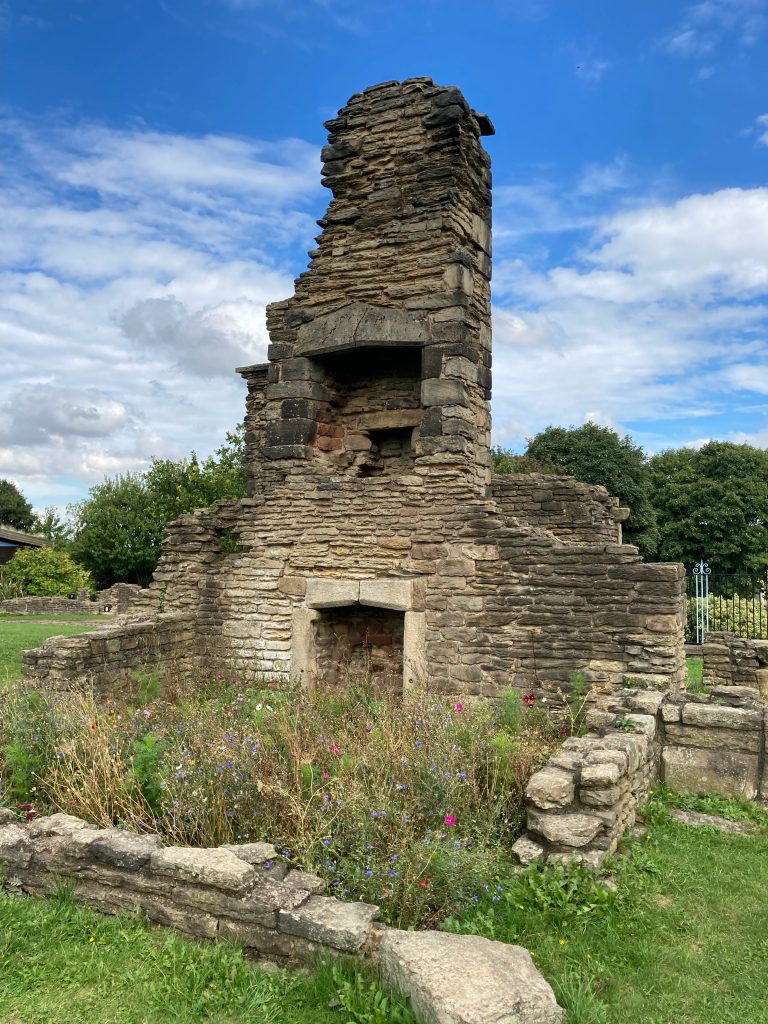 GVHS Guided Tour of Manor Lodge
GVHS members had a very interesting guided tour of Sheffield's Manor Lodge on Tuesday, 6th September 2022. We were privileged to have historian and author David Templeman of the book Mary, Queen of Scots as our tour guide.
The book is a fascinating story of Mary, Queen of Scott's 14 year incarceration at Manor Lodge and anyone interested in Tudor history would definitely enjoy this place.
After receiving Lottery funding, FOSML (Friends of Sheffield Manor Lodge) are doing great work improving what was a derelict site for many years. Beautiful wildflower meadows, lavender maze, circular walks and stunning views over Sheffield and not forgetting a welcoming cafeteria, shop and meeting room.
David Templeman's book Mary, Queen of Scot has now received national recognition from AQA and GCSE History for the current years 2021-2023. This will mean more than 50,000 students will study Sheffield Manor Lodge and Mary, Queen of Scot's captivity.
Please see link below for details on how to purchase your own copy.
A few "then and now" photos of our local shops and pubs