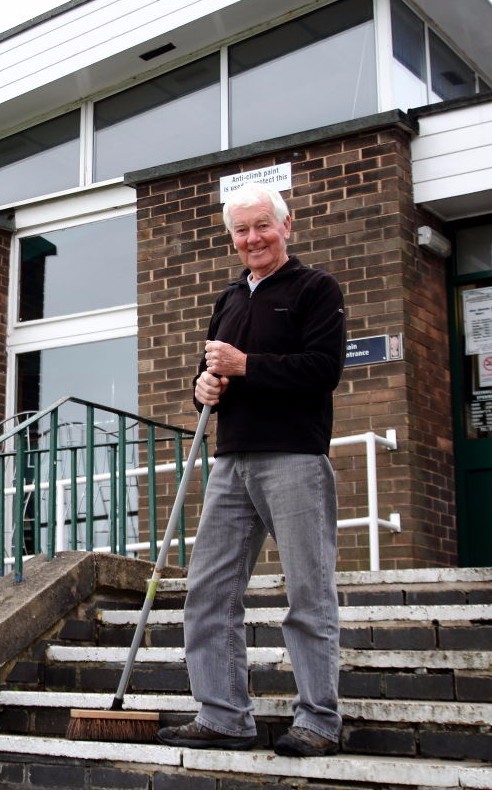 Ask volunteer Mick Haigh what his job title is, and he draws a blank. Ask him what he does, however, and it's clear the library would be far less attractive without his work keeping the building exterior and surrounding areas spick and span. "I keep all the access areas clean and tidy", he says, "the steps, the two access footpaths. I've started tidying up the courtyard, just half an hour a week because it's a major job. There's such a lot of weeds that haven't been touched for years. The bike stands need constant attention because the weeds just grow and grow and grow."
When he's not waging war on weeds, Mick, who has always lived in the Greenhill and Bradway areas, is tackling take-away food and packaging dropped by people hanging around outside the library, along with disposable forks and cigarette ends. The most unpleasant thing he finds is dog mess, but thankfully, he adds, it's not a common problem.
Retired high voltage engineer Mick says that he has always used the Library, admitting that he would sometimes grumble to then staff about the steps which were "always a mess". When the volunteers took over, he says: "I thought the least I could do is the bit I complained about most!" Now he's about to embark on the 'hardest part of the job' tackling the leaves which will fall between now and December. Last year, he recalls, he filled eight huge sacks.
However, while he spends his time picking up litter, he tells me that his role is far from rubbish:
"I get satisfaction from 'doing a bit'. I think the whole concept is brilliant, and the it's amazing the number of volunteers who have come forward to keep this place going, it's a major achievement. It's nice to be part of it.