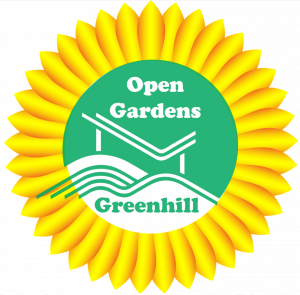 Greenhill Open Gardens 2020
We are delighted to announce that our Open Gardens weekend (originally planned for June) is going ahead on 5th and 6th September. Sixteen gardens are opening for your enjoyment. Opening hours are 10am – 4pm. 
We are asking you to contribute £5 to library funds by buying a map, which will also act as your ticket into all the gardens. The maps will be available:
At any participating garden
At the library during click & collect sessions
From the gazebo on the library lawn on 4th and 5th September
Please note that not all gardens are open on both days — the details are in the map. We ask you to take care when visiting the gardens, observe social distancing, and comply with any restrictions the gardeners may have put in place to ensure your safety.
For an interactive map of garden locations click here. (To use the map, just click on the numbered markers to see the street address.). Alternatively you can use this list (in no particular order):
36 Crawshaw Grove
73 Meadowhead Avenue
18 The Greenway
33 Greenhill Main Road
39 Greenhill Main Road
137a Hemper Lane
104 Hemper Lane
225 Westwick Road
182 Westwick Road
54 Greenfield Road
33 Westwick Crescent
230 Westwick Road
125 Greenhill Main Road
68 Old Park Avenue
43 Old Park Avenue
9 Meadowhead Avenue
If you can't get to see the real thing, we also have a "Virtual Open Gardens Tour" video that was made back in June — 40 minutes of gardening goodness from seven local gardeners: